Case Study
Negative to positive : The Christie NHS Foundation Trust
Learn how The Christie NHS Foundation Trust used an informal partnership approach to address conflict and promote a positive work environment.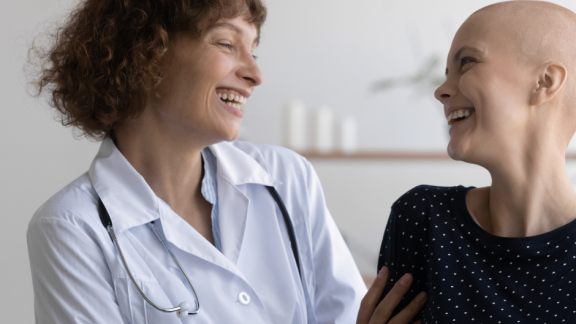 The organisation
The Christie NHS Foundation Trust is the largest single-site cancer centre in Europe, treating more than 44,000 patients a year. They serve a population of 3.2 million people across Greater Manchester and Cheshire while 26 per cent of their patients are referred to them from across the UK.
The challenge
In 2017, the HR advisory team was managing a relatively high number of bullying and harassment complaints. A review of the organisation's respect at work policy highlighted that 85 per cent of all formal cases resulted in an outcome recommending informal action. Union representatives were also concerned about the number of formal cases, having discovered that over 80 per cent of cases where they provided advice were due to problems with working relationships. In addition to this, the 2017 NHS staff survey results showed that 20 per cent of Christie staff reported having experienced harassment, bullying or abuse from colleagues in the previous 12 months.
The aim
Managers and trade union representatives in the trust wanted to create a new policy that encouraged an informal approach to addressing conflict and promoted a positive work environment and working relationships. They wanted to improve the under used in-house mediation service and develop a consistent approach to managing the mediation process. Partners in the trust also agreed to the need for listening events to hear from staff about their experience of bullying and harassment at work and identify ways to prevent and address such incidences.  
The process
The joint unions committee and HR developed a new positive working relationships (PWR) policy which encouraged and supported informal approaches to managing negative relationships in the workplace, with a view to resolving issues at an earlier stage. The PWR set out how to create a positive environment including methods to manage negative relationships and an interactive self-assessment tool relating to bullying and harassment.
A best practice model of mediation was produced. The trust worked with a leading provider of conflict management and dispute resolution services to increase the number of formally-trained mediators providing mediation to staff. This also included equipping managers with the skills to foster collaborative working and providing additional conflict resolution skills training for staff. To date, 148 managers have attended these supportive training courses provided in-house. The course provides managers with the knowledge and skills to help them to create positive working environments and address interpersonal issues quickly and informally.
Partners developed and led listening events with staff to find out about their experience of bullying and harassment in the workplace. These events, which included using staff questionnaires, listening panels and focus groups, are continuing and being used to inform the future direction of the PWR programme and to progress the trust's creating positive culture and tackling bullying work, in line with the Social Partnership Forum's call to action.
A range of media was used to launch and embed the PWR, the mediation service and ongoing listening events. This included encouraging managers to 'nip things in the bud' so that poor behaviour is addressed early.
The trust also developed and launched an interactive self-assessment tool to signpost staff with concerns about negative working relationships to the most appropriate and supportive course of action.
Outcomes
There has been an increase in the use of the mediation service which has a direct correlation in a reduction in formal cases being raised. Over the last three years the service has dealt with 39 bullying and harassment cases, an average of 13 per year. In the four months following the formal launch of the policy, they have opened two formal cases which suggests a future reduction of seven cases per year.

Following the launch of the service they have facilitated two formal requests in a three-month period. It is expected that fewer formal cases will be raised and that there will be an increase in the usage of the mediation service as this becomes embedded.

A reduction in the time it takes to solve an investigation. The average time taken to complete a formal investigation was 20 weeks compared to two days for mediation, which typically concludes with a more positive outcome.
Top tips
Work in partnership from the outset to ensure a range of experience and views inform the planning and implementation of new approaches.

Check policies and processes so that language focuses on the positive rather than the negative and consistently use a key memorable phrase eg 'nipping it in the bud'.

Communicate change widely across the organisation and then share resources and
good practice to embed as part of business as usual.
September 2021
The COVID-19 pandemic has seen their programme progress following the launch of their Respect Campaign in 2019. This campaign looks to bring staff together in pledging to:
do their part to make the Christie a better place to work by treating everyone with respect and compassion.

show their respect to others by keeping a courteous, polite and open-minded attitude at all times, when in contact with colleagues, patients and visitors.

listen and support everyone by helping to create an environment where people feel emotionally and physically safe.

respect the diversity and beliefs of their colleagues, patients and visitors by understanding and recognising that everyone has different needs and should be treated as an individual.
The Respect Campaign has a selection of resources available for use around the trust and is supported with three workshops: for managers, for staff as pro-active involvement and for teams, by request, where there is seen to be a need for some degree of intervention. The team workshop concludes with a respect agreement being drawn up so that the team agrees how they will respect each other within the workplace and when on work-related events.
As a result, we have seen an increased use of informal approaches to resolve workplace issues and a reduction in formal complaints which need to be investigated.
For further information, contact Gillian Hobson, Partnership Officer (JUC Chair).