Article
Supporting system change
The SPF is supporting effective partnership working in system transformation.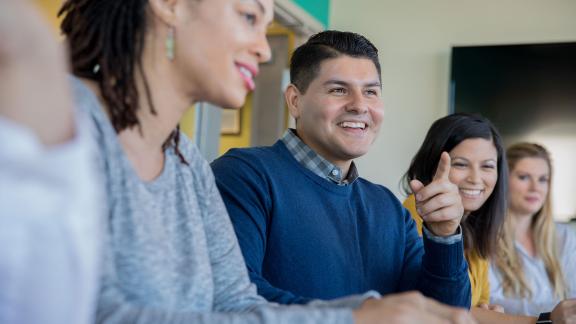 HR Framework - Frequently asked questions (FAQs) published June 2022
These revised FAQs support the implementation of the HR Framework for developing Integrated Care Boards. They are based on questions collated via the ICS Transition Partnership Group, the HR framework connections sessions, and the NHS Futures Platform. These FAQs include answers to frequently asked questions on the guidance on the employment commitment. In June 2022, an amendment was made to FAQ 37 so that it references 'CCG Exit Guidance' rather than 'Treasury approval in line with the guidance on public section exit payments'.
Access version 1.2 of the HR Framework FAQs.
Transition Partnership Group - FAQs published May 2022
These FAQs were developed by the ICS Transition Partnership Group (TPG) and are based on feedback received from surveys of UNISON and MiP members carried out earlier in 2022, and issues identified at TPG meetings.
Access the ICB workforce transition FAQs. 
HR Framework for developing Integrated Care Boards
Published on 19 August 2021, the HR Framework provides the mechanism of transfer for staff moving to statutory Integrated Care Boards (ICBs), including expectations in relation to staff engagement and partnership working. The framework was produced in partnership by NHSEI, employers and trade unions. The co-chairs of the TPG, Alan Lofthouse (UNISON) and Tom Simons (NHS England (NHSE)) published a joint statement (see below) in support of the HR Framework being used by all those involved in the transition of staff in to ICBs.
An updated version of the Framework was published in March 2022. This version reflects changes to expected timescales for ICB establishment.
Access the updated HR Framework and supporting documentation.
We are pleased to have worked in partnership with colleagues through the ICS Transition Group (TPG), a sub group of the National SPF in developing the ICS HR Framework. The TPG membership consists of national trade unions, NHS Employers, Clinical Commissioning Group (CCG), ICS HR Directors and senior leaders from NHS England and NHS Improvement. The group was established in April 2021 to effectively support staff impacted by organisational change arising from the 2021 Health and Care Bill.

The HR Framework provides a mechanism of structured support for affected staff with professional advice, guidance and best practice, in relation to the human resource and employment law considerations required to enable the safe transfer of people to the new NHS Integrated Care Boards (ICBs). It also outlines key activities, responsibilities and/or considerations required at a national, regional, system and organisational level.

We ask that system leads, employers and HR and OD colleagues continue to engage with trade unions in regional, system and local partnership arrangements during the implementation of the framework, in order to support staff with a safe and supportive transition process with minimal disruption.

The ICS TPG will continue to support this work by ongoing monitoring of the framework through Regional SPF channels and ask that any general feedback or concerns our fed through your Regional SPF.
TUPE consultations with trade unions 
Clinical Commissioning Groups (CCGs) are required to engage with trade unions as part of the TUPE (Transfer of Undertakings Protection of Employment) consultation process. The addresses and contact details for trade union national offices are available in the following document. Much of this information is taken from the Trade Union Congress (TUC) website but it also includes those NHS trade unions not affiliated with the TUC. 
Please note, CCGs may need to also contact the trade union's regional office.
ICS Design Framework and guidance on the employment commitment
On 16 June 2021, NHSEI published the ICS Design Framework which sets out some of the main ways NHS leaders and organisations will operate with their partners in ICSs from April 2022. Published alongside the framework is guidance on the employment commitment. This document, which was developed in partnership through the ICS Transition Partnership Group of the national SPF, provides guidance on what the employment commitment is, its application in practice and how it affects people. To access the ICS Design Framework and guidance on the employment commitment, see NHSE's website.
Health and care jargon buster
The SPF has produced a jargon buster for staff working across the health and care system, to assist them with understanding the terminology used. It was last updated in September 2022. Access the jargon buster to learn more.
Visit the SPF's background to the current health and care system page for insight on past and ongoing planned system changes.
Developing the NHS People Plan in partnership
Listen to our podcast, recorded at a SPF People Plan workshop, to hear Danny Mortimer (NHS Employers) in conversation with Sara Gorton (UNISON), Claire Sullivan (CSP) and Colenzo Jarrett-Thorpe (Unite), on trade union involvement in the NHS People Plan.