Article
Addressing sexual harassment in the NHS
Information and resources to support tackling sexual harassment towards staff in the NHS.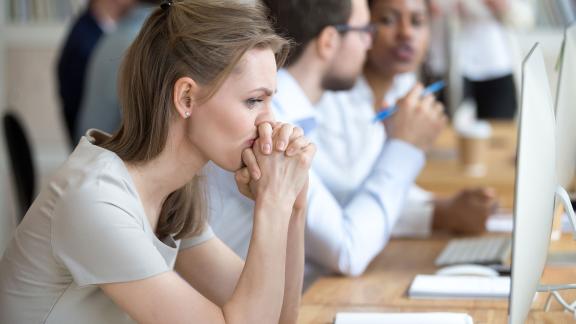 Definition of sexual harassment
Sexual harassment is a legal term, defined in the Equality Act 2010 as unwanted conduct of a sexual nature, which has the purpose or effect of violating an individual's dignity or creating an intimidating, hostile, degrading, humiliating or offensive environment for that individual.
Sexual harassment in the NHS
In June 2021, the results of a survey run by UNISON and the Nursing Times were published. The survey, which sought the views of over 2,000 nursing staff and students, revealed that 60 per cent had experienced sexual harassment at work. See the UNISON website for more information on the research and the full results of the survey.
It's Never OK: a report on sexual harassment against healthcare staff, published by UNISON in June 2019, found eight per cent of respondents said they had been sexually harassed in the last year. The report also gives information on the types of sexual harassment, the perpetrators and level of reporting and concludes by requesting employers and the government be more proactive in tackling sexual harassment.
In response to the 2019 survey results, Sara Gorton, SPF trade union chair said:
"These findings show why the SPF focus on creating safe and compassionate workplaces is so important to recruiting and retaining staff. Making sure staff are safe and treated with respect is a crucial part of partnership working and would urge local partnerships to look at the findings of the survey and consider how they can use the SPF's call to action to start a constructive and honest conversation about addressing sexual harassment in the workplace."
Danny Mortimer, SPF employer chair, said:
"NHS organisations have clear policies in place to deal with reports of harassment or bullying. It is not always easy for concerns to be raised – especially when the perpetrators are in positions of authority or patients, but it is important staff report incidents. Most NHS organisations have specially trained staff in place to help colleagues raise concerns about such utterly abhorrent behaviour. Freedom to speak up guardians as well as Guardians of Safe Working, chaplaincy, trade union and HR staff are also on hand to offer support."
Sexual harassment in the workplace
Lifting the lid on sexual harassment and power in the workplace, a conference paper produced by Dr Virginia Fisher and Dr Sue Kinsey, University of Plymouth for the CIPD Applied Research Conference 2018 identifies ways to prevent sexual harassment, including: 
organisations being clear on what is meant by sexual harassment
an organisation's policy on sexual harassment should be easily accessible to current and potential employees
training should be used to help the policy be effective
managers should receive conflict management training with a focus on emotional skills – enabling them to effectively support victims
there needs to be anonymous reporting channels in an organisation and for management to take reported sexual harassment seriously and respond in a timely manner
organisational culture, especially where there is gender inequality between men in senior and women in less senior grades, can result in higher levels of sexual harassment. Where this is the case, employers should acknowledge and seek to address this imbalance.
To read the research paper in full, see the CIPD website.
Sexual harassment at work – free legal advice for women
Right of Women is a women's charity that provides free legal advice for women in the UK who are experiencing sexual harassment in the workplace. Visit their website for more information and advice on the support available. 
Further information and resources
Visit Acas' dedicated sexual harassment pages for information on: