Article
Overview of planned system changes
A brief overview of planned system changes in health and care.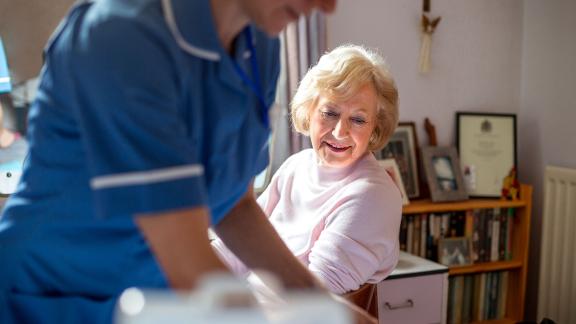 As part of the NHS Five Year Forward View (FYFV) published in October 2014, NHS England launched a national initiative to enable better, more sustainable services for local populations. New care models, including vanguards, integrated pioneer sites and primary care homes tested approaches for shifting the focus away from service and disease-led decisions about how health and care is delivered to population health and demand-led decisions.
To further progress the FYFV, sustainability and transformation plans were developed, these set out how local partners intend to work together to address the triple aim - improved health and wellbeing, transformed quality of care delivery, and sustainable finances. Sustainability and transformation partnerships (STPs), and integrated care systems (ICS), the latter being more advanced in system working, were tasked with taking forward these plans. ICSs now cover the whole of England.
ICSs seek to develop new joined up models for the provision of health and care services. This involves a move away from traditional organisational and professional boundaries to establish place-based systems of care in which healthcare, social care, voluntary, charitable sectors collaborate with each other to address the challenges and improve the health of the populations they serve.
The LTP, published January 2019, featured information on a new way of working including: the ambition for all health and care systems to be ICSs by April 2021 and an NHS England and NHS Improvement (NHSEI) shared operating model and plans for how their new regional structure would support locally driven initiatives.
The Interim NHS People Plan, published in June 2019, set out a vision for people who work for the NHS, to enable them to deliver the LTP. Action from the Interim NHS People Plan was already being taken to increase the support and recognition for the NHS workforce. The COVID-19 pandemic heightened the need to support staff effectively and to have in place mechanisms to enable staff to be rapidly deployed to where they are needed most – in an organisation or an STP/ICS.
We are the NHS: People Plan 2020/21 – action for us all included lessons to be drawn from the COVID-19 pandemic and set out what NHS staff could expect – from their leaders and from each other – for the rest of 2020 and into 2021.
The working together to improve health and social care for all, white paper, published in February 2021, sets out legislative proposals for a Health and Care Bill. The Bill will aim to enable integrated care systems play a greater role, delivering the best possible care, with different parts of the NHS joining up better; and the NHS and local government forming dynamic partnerships to address some of society's most complex health problems. The proposals will also seek to ensure a system that is more accountable and responsive to the people that work in it and the people that use it. The Bill was introduced to Parliament in July 2021.
On 16 June 2021, NHSEI published the ICS Design Framework which sets out some of the main ways NHS leaders and organisations will operate with their partners in ICSs from April 2022 – subject to legislation
Learn more about terminology used in system change in our jargon buster.